Community Amenities
The Flats at Springhurst offers a variety of community amenities to enhance our residents' lifestyles. Our on-site amenities include a sparkling swimming pool, two state-of -the-art fitness centers, coffee bar and free Wi-Fi.
We also offer outdoor grilling stations, a pet park, and an outdoor lounge with fireplace. Our parking garage is gated for added privacy. Whether relaxing by the pool, sweating in the gym, or socializing in the resident lounge, The Flats at Springhurst has everything you need to live your best life!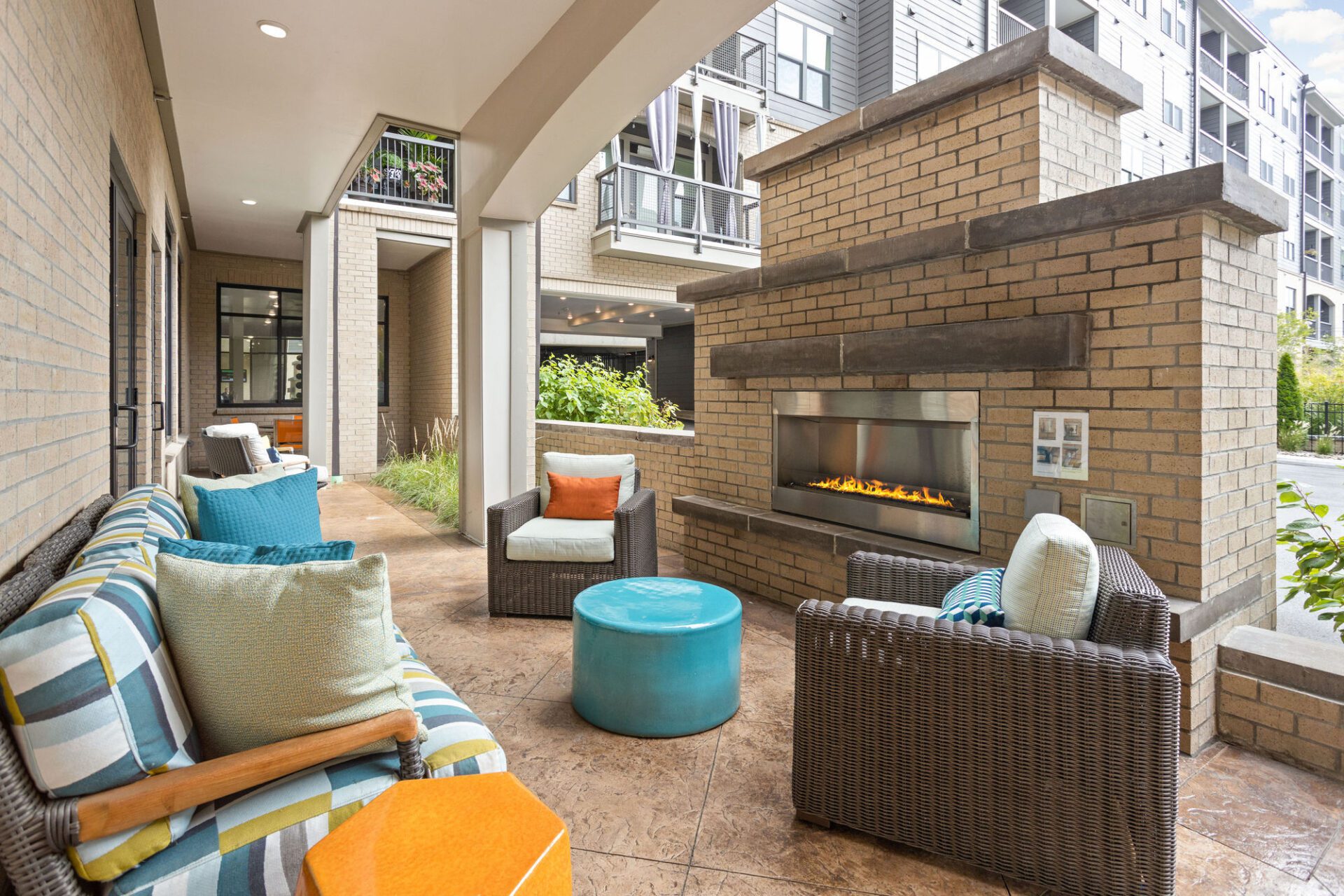 Business Center
Work from home! Our business center has all the modern amenities you need to work in style.

Virtual Yoga
Get your zen on without leaving the comfort of your home. We offer virtual yoga classes, so you can stay fit and relaxed from home.

Stunning Pool Deck
Are you ready to soak up some sun? Enjoy a refreshing dip in our saltwater pool, or stretch out and relax on the pool deck.

Salt Water Pool
Take a dip in our sparkling, clean saltwater pool! Unwind and relax with some laps or just lounge around with your friends.

Pet Spa
Pamper your pet at our on-site pet spa. Our fully equipped washing stations will take care of all your pet's grooming needs—from baths to trimming nails to haircuts.

Pet Playground
Let your pet run and play in our pet playground, a fully-enclosed outdoor space specifically designed for the safety of your furry family member!

Maker's Room
Get creative with our maker's room!
Here, you can access all the tools and materials you need to make beautiful crafts.

Gaming Room
Unleash your inner gamer in our gaming room! We have a variety of gaming ideas like pool and darts so you can play with your friends or challenge yourself to something new.

Two Fitness Centers
Stay fit and healthy with our two on-site fitness rooms!
Our spacious gym has the most modern equipment, so you can get the exercise you need without leaving home.

Bike Storage
Keep your living space clutter-free and your bike in great condition with our convenient Bike Storage facility at Flats at Springhurst.

Covered Garage Parking
Parking has never been more accessible than with The Flats at Springhurst! Drive into our covered garage parking and protect your vehicle from the elements.

Package Delivery Room
Never miss a package delivery again! Our package delivery room provides a convenient location for all your deliveries, so you can always be sure you're getting what you ordered.

Electric Car Charging Station
Charge up your electric car at our electric car charging station. Our station is powered by solar energy, so you can rest assured that your car is getting its power from sustainable sources.
Apartment Amenities
The Flats at Springhurst offers its residents a variety of luxurious amenities to make their living experience truly special. Our apartments come equipped with state-of-the-art kitchens, spacious bedrooms, and modern bathrooms, ensuring you have everything you need to make your home comfortable and inviting.
Our community features a 24-hour fitness center, a stunning outdoor pool and sundeck, perfect for those lazy evenings. You'll also find a modern clubhouse with a resident lounge, a fully equipped business center, and ample parking for you.
Our staff is dedicated to making your life at The Flats at Springhurst as effortless as possible. We're always here to help with anything you need, so experience the best in luxury living at The Flats at Springhurst!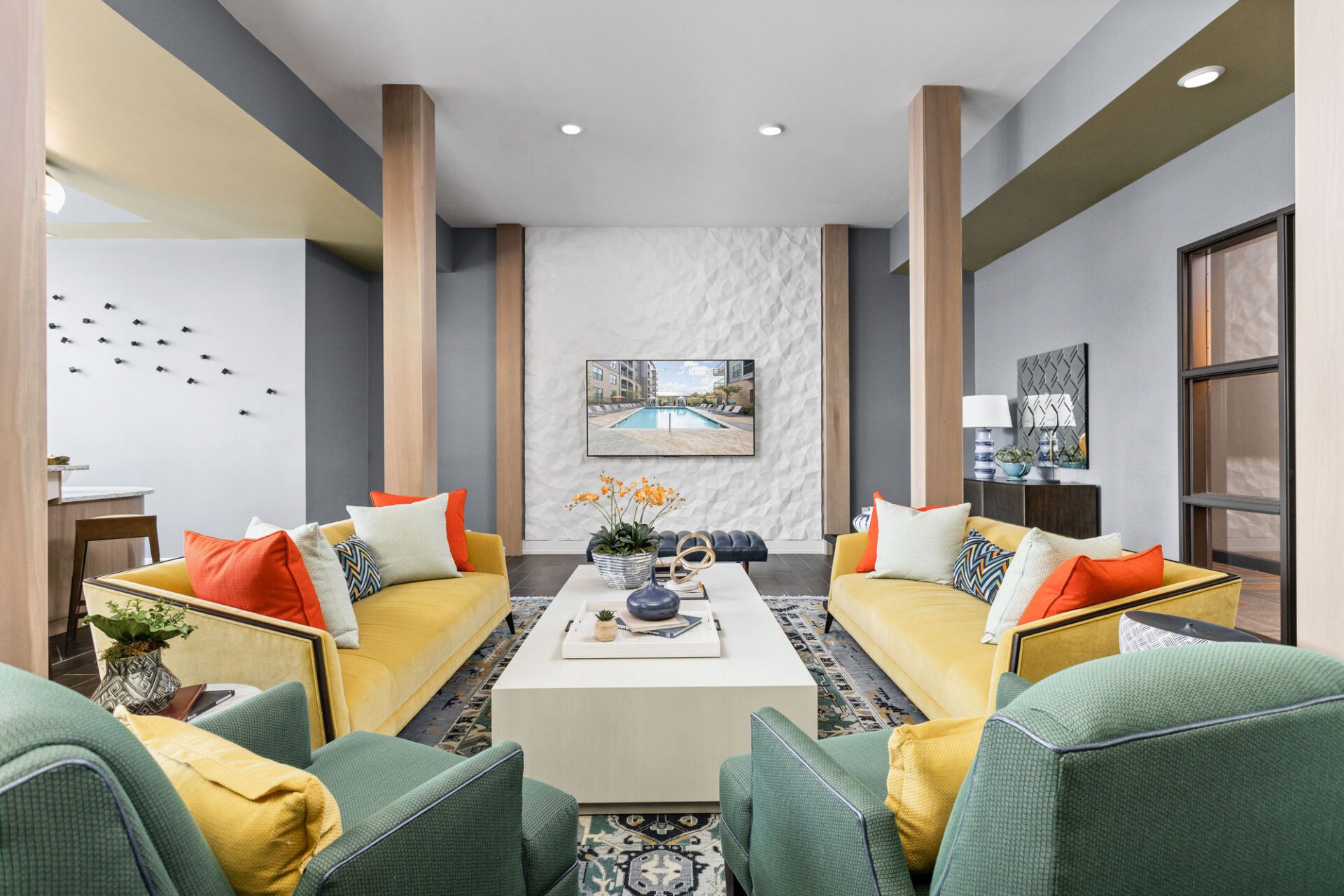 Additional Storage
Enjoy additional storage options and ensure you have enough space to store your belongings and keep your homes clutter-free.

Courtyard
Discover the outdoor oasis at The Flats at Springhurst with our beautiful courtyard. Immerse yourself in the lush greenery and enjoy the fresh air while taking a stroll.

Dishwasher
Enjoy seamless meal clean-up with the dishwashers included in every apartment at The Flats at Springhurst. No more hand-washing dishes after every meal. Let the dishwasher do the work for you.

Wine Fridge
Indulge in luxurious living with the wine fridge at The Flats at Springhurst. It provides the perfect storage solution for your favorite bottles and ensures your wine is always at the ideal temperature.

Disposal
Eliminate waste with ease in your kitchen by utilizing our convenient disposal service. It is sure to make your life easier!

Window Coverings
Our apartments come with window coverings to give you privacy and protection from the sun while allowing you to enjoy natural light.

Individual Climate Control
Your comfort is important to us, which is why each apartment has individual climate control. You can easily adjust the temperature of your apartment to suit your preferences.

Large Closets
No matter your apartment layout, you'll never have to worry about a lack of storage space. Each home comes with large closets to store all your belongings.

Microwave
Our apartments come equipped with built-in microwaves for your convenience. Heat your meals with our technologically-advanced equipment.

Private Balcony or Patio
Relax and take in the view from your private balcony or patio.
Enjoy the fresh air and scenery from your own private retreat.

Range
As part of the kitchen amenities, each apartment comes with a flat top range. You can quickly cook up your favorite meals and enjoy them in the comfort of your own home.

Refrigerator
Keep your food fresh and organized with a high-quality refrigerator with in door ice maker & water dispenser in each apartment. The units include indoor ice maker & water dispenser.

View
Enjoy the stunning views of Louisville from your apartment windows. Whether you prefer to take in the city skyline or a peaceful view of the trees, you have plenty to choose from.

Wheelchair Accessible
We strive to make our apartments accessible to everyone. Our units are designed with wheelchair access in mind so you can easily navigate your home.